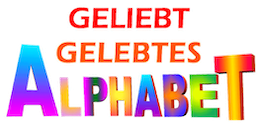 The intuitively learnable ABC is here
 
after eight years of clockwork between scientists, artists and schools in twelve European countries.
Materials for activities from age 1 to 9 for language development, literacy, foreign language immersion and musical activities
as well as a certified further training.
Is there the need for a new literacy approach?
In 2003, the OECD declared the improvement of literacy teaching to be the first educational goal worldwide.
A flood of materials has been rising in markets and Youtube channels since. However, reading and writing skills have deteriorated.
Brain research explains, why reinforcing the measures increases the problem.
The Loved-Living-Alphabet goes the other way: how a letter looks and sounds does not need to be learned. From the beginning, sound and image are a unity, the sense of which is experienced directly. This transforms surprised eyes into reading eyes, as naturally as the mouth has learned speaking.


The ABC as an interactive fairy tale and treasure trove
Clapping, dancing, speaking, listening, painting, drawing and learning with all the senses: an adventure journey, where adults and children uncover potential together.
Topics from the world of children's experiences awaken social awareness and the feeling "I have experienced that already, this is exciting, this is important for me!"
This way, already three and four-year-olds internalize the alphabet enthusiastically within days.
Furthermore, the picture book and the method offer the possibility of going from one letter to the other in a self-directed manner at one's own pace.


Neurophysiological findings applied directly
This material and approach enables the brain to store the alphabet in the form of contextual and emotional experiences, haptic fine-motor training, as well as visual and auditory stimuli by a directly experienced meaningfulness.
This results in tightly linked neural networks that work sustainably and focused. "This is exactly how things shave to happen" Elena Dobrovolschi, clinical psychologist and director of UCOS, Sibiu.


Welcome to cooperation
- Introductory courses in primary and nursery schools with the support of the European Commission for Education and Culture.
- Certified further training:
       - Coach for brain-friendly literacy
       - Consultant for brain-friendly education
       - Designer of brain-friendly educational material.
- Partnerships for innovation projects with partners also abroad
- Job offer for creative educators
- Internships for pupils and students
- Volunteer jobs


Where is it going?
Will language and writing connect or separate people? Language and writing form the big gate of human encounter.
We want to help children to walk free from fear through this gate and experience language and writing in a culture of humanity where fear or hate messages do not accelerate, but connectedness is able to grow for each individual in the spirit of humanity.
We thank all participants, young and old, near and far, who join this task.


The team of the Loved-Living-Alphabet
Regula Signer, Gawan Hepp, Nanou Parent, Maria Lorenz, Clara Maldener, Gudrun Koch, Anca Muntaen, Eugen Iordanescu, Elena Průchová, Jana Szittyayová, Gemmam Freeman, Luigi Martulli, Paolo Montemurro, Birute Tilvikiene, Tomas Morkunas